c:o/re inauguration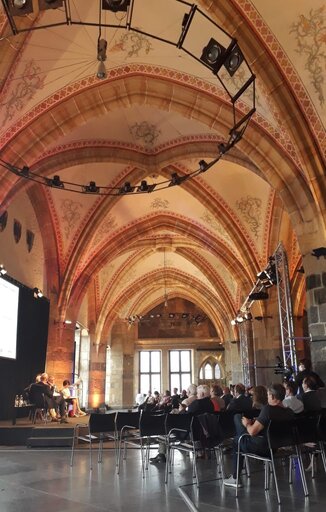 On Monday, July 4th 2022 we marked the founding of KHK c:o/re with an inauguration event in the Coronation Hall of Aachen City Hall. We are grateful to the excellent scholars and professionals from many fields who made this such an intellectually enriching event and, indeed, to everyone who participated.
Rector of RWTH Aachen University, Prof. Dr. Dr. h. c. mult. Ulrich Rüdiger welcomed the guests to the first Käte Hamburger Kolleg at a technical university.
In her address, the State Secretary at the Federal Ministry of Education and Research, Kornelia Haugg insightfully explained the mission and importance of both Käte Hamburger Colleges, in general, and c:o/re, in particular. It has been delightfully refreshing to gather in this impressive venue with other scholars and stakeholders, old and new friends, as it is now possible to assemble, again. The Covid-19 pandemic, which has been difficult for everyone, has made it impossible for scholars, like for many other professionals, to gather for a long time. We, the c:o/re team, were excited to be surrounded by an extensive network of colleagues at this event, which made us better understand the mission of our own centre. We hope that all attendees will continue to be part of the life of c:o/re in the years to come.
The Dean of the Faculty of Arts and Humanities, Prof. Dr. Torsten H. Voigt appreciated that c:o/re, through its interdisciplinary branching out and fellowship program, will bring an important contribution to the faculty. He expressed his wish that this faculty will provide c:o/re fellows an inspiring research environment, where they will find many colleagues to collaborate with.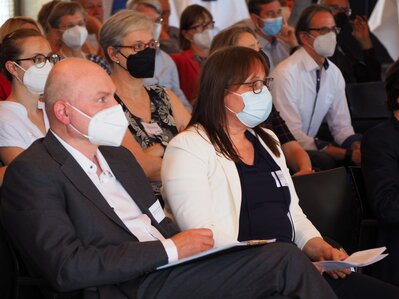 After these addresses, c:o/re directors, Professor Gabriele Gramelsberger and Professor Stefan Böschen welcomed and thanked our distinguished guests and introduced the current and future c:o/re fellows, the scientific advisory board, the science program advisors and the c:o/re team.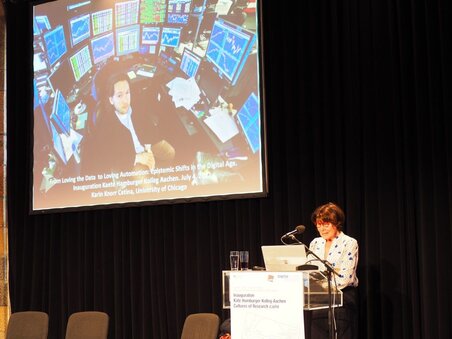 Professor Karin Knorr Cetina, a top scholar in science and technology studies, delivered the keynote lecture, titled "From Loving the Data to Loving Automation: Epistemic Shifts in the Digital Age" (abstract). In her superb lecture, Professor Knorr Cetina insightfully tackled the question of whether should humans in science be replaced by models based on data. In her conclusions, she argued that machines cannot research cultures. This question and others were further debated in a panel discussion on "Present-Future Transformations of Research Cultures", moderated by science journalist Dr. Jan-Martin Wiarda. Professor Hans-Jörg Rheinberger (MPI for the History of Science), Professor Lars Blank (RWTH Aachen, Chair of Applied Microbiology) and Professor Matthias Wessling (RWTH Aachen, Vice Rector for Research and Structure) were the discussants of this roundtable. The conversation revolved around salient contemporary issues such as the digitalization and globalization of science, possibilities of using AI in research and multi- and cross-disciplinarity.
We would like to thank the many colleagues who have been supporting us and we hope that we will rise to the height of the wishes that the guest speakers had for us.