Joost-Pieter Katoen demystifies probabilistic modeling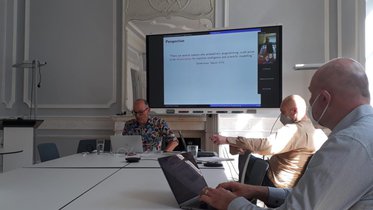 On July 13th, Professor Joost-Pieter Katoen (RWTH Aachen University) gave the final Philosophy of AI lecture: Optimistic and Pessimistic Views lecture at c:o/re, titled "Demystifying probabilistic programming". The talk convincingly advocated the usefulness and accuracy of probabilistic inferences as performed by computers. Various types of machine learning, argued Joost-Pieter Katoen, can benefit from being developed through probabilistic programming. The underling claim is that probabilistic programs are a universal modeling formalism. Far from implying that this could result in softwares that could successfully replace humans from inferential and decision-making processes, probabilistic programming relies on correct parameterisation, which is an input provided by humans.
The c:o/re team would like to thank Professor Frederik Stjernfelt and Dr. Markus Pantsar for organizing the lecture series Philosophy of AI: Optimistic and Pessimistic Views, which ran throughout the summer semester of 2022.
References
probabilistic inference
Training of neural networks
References
Ghahramani, Zoubin. 2015. Probabilistic machine learning and artificial intelligence. Nature 521: 452–459.